VIBRATION ANALYSERS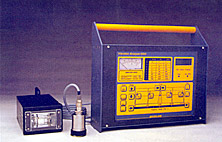 VIBRATION ANALYSER
DESCRIPTION
:-

The BASELINE Vibration analyser 5050 is a very powerful instrument for tackling a variety of vibration problems on rotating machinery. Modern integration techniques have resulted in a product that may well be the most compact unit of its type available anywhere.
It can measure vibration within a very wide frequency band of 60 rpm to 6,00,000 rpm. The Graphic-Panel on top of the instrument is designed to represent the frequency response if the instrument. Thus the upper and lower frequency limits may be selected by simply touching the appropriate knee on the curve.
FEATURES :-
* Can be used for vibration measurement to IS 11724, and also vibration
troubleshooting based on Frequency Analysis.
* With an optional stroboscope, it can be used for balancing various types of rotors
in-situ.
* A PC based balancing programme for 1- plane and 2 - plane balancing is also
available optionally.
* Portable, compact enough to fit into a briefcase.
* Totally electronic membrane type switches for control of the instrument
parameters.
* Rechargeable battery operation leading to freedom from battery replacement.
* Graphically laid out control panel makes it easy to understand control parameters.
* Electronically tuned filter with digital frequency display.
* Very easy to use.
| Dynamic Balancing Services | | Conditional Monitoring /Vibration Consultancy | | In - Situ Balancing Services |
| Blowers Repairs & Systems | | Noise Measurement | | Dynamic Balancing Machine | | Vibration Meter ( 2040 & 2050 ) |
| Hard Bearing Belt Drive Balancing Machine | | Vibration Analyser Cum Dynamic Balancer ( 6050 ) |
| Computerised Portable Balancer ( 2100 ) | | Vibration Monitors ( 7000 ) | | Sound Level Meter | | Bearing Tester ( 2021T ) |
Home | Profile | Contact | Feedback