BASE (BALANCING ASSIST SOFTWARE FOR ENGINEERS)
BASE is a windows based software and hardware package representing the state of the art in PC based dynamic balancing instrumentation technology. It runs on any standard PC or laptop without requiring any special configuration. The software is menu driven with simple data entry.

z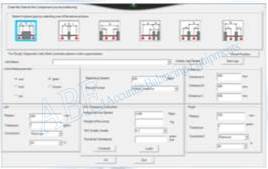 The operator simply needs to click OK with the mouse to start the measurement cycle automatically. It has a built in Calculator to set balancing tolerance in compliance with ISO 1940. Thus the operator need not manually calculate the residual unbalance tolerance required.
The display of unbalance amount and ...bon for each plane is available in Polar, Vector or Cartesian formats on the PC screen. Rotor data and test results are automatically saved and stored on the hard disc of the PC. the operator simply recalls the rotor data from the memory at the time of Balancing


Log data can be exported to Excel or Word format for further - analysis. It is possible to select any geometrical - configuration, feed data through keyboard, set tolerance levels, save and upload rotor history With data storage of more than 10000 rotors. The results are displayed in large and easy to read formats simultaneously In vector and polar modes. Printout facility for each balancing run is available -- on demand.