LASER SHAFT ALIGNMENT TOOLS
LASER SHAFT ALIGNMENT SYSTEM / LASER PULLEY ALIGNMENT / VIBRATION & BALANCING INSTRUMENTS:
We are pleased to present the newest innovation in wireless portable laser shaft alignment technology, the VLSAT.
VLSAT is available for Microsoft Windows®, Android® tablets and iOS® for iPad®.
The ONLY 3 Operating System Laser Shaft Alignment System in the world, VLSAT is available on Microsoft Windows®, Android® and iOS® for iPad®. You have a choice with VIBRO-LASER. Select your display tablet option from those we offer, or bring your own device that meets or exceeds our minimum requirements. VLSAT is ergonomically designed for the most rugged environments. This product others an absolutely innovative, step-by-step, responsive interface with 3D-animations and wide touch screen which simplifies the alignment process and reduces the time it takes to complete each alignment.
The unbeatable functionality and the undeniable performance capabilities of VLSAT systems allow you to complete precise alignments for your rotating assets every time. Rugged, Repeatable, and Relentlessly Reliable your VIBRO-LASER VLSAT system will prove to be an invaluable asset in your reliability toolkit.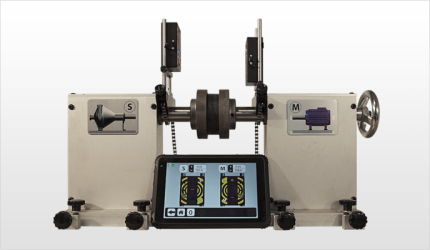 System Advantages
1. Improve asset availability & uptime through precision alignment.
2. Reduce unnecessary costs associated with unplanned failures & premature wear
3. Reduce your energy Consumption.
4. Wireless Bluetooth® Communication for Safety
5. More efficient, and faster than dial indicators
6. 5-Steps-Simple™ alignment Process
Sensor Units

1.Degree of protection IP65

2.Operating time 20 Hours

3.Operating temperature: 14o F to 140o F (-10o C to +60o C)

4.Detector type Digital CCD detector 30mm

5.Measurement distance Up to 10m
The VLSAT sensor units use the latest digital, and Bluetooth® data processing technology. Eliminating pre-alignment and minimizing setup time is intrinsically engineered into the VLSAT through the utilization of our exclusive 30mm CCD-detectors. This provides you with exact and stable measurement results and enables the system to be more interference-immune from the external factors (stray light, vibration, thermal growth etc.). Thanks to the compact and durable aluminum case of the sensor units, you can work in the most confined and harsh environments.
Features

HORIZONTAL ALIGNMENT

CLOCK METHOD

This alignment method requires collecting a measurement points at any 3 of the 4 pre-defined clock positions. (3-6-9-12 o'clock).

POINT METHOD

This alignment method allows you to begin collecting measurement points at any angle of shaft rotation and automatically collects a measurement anytime you stop rotation. Minimum of 40 degrees of rotation is required.

CUT ANGLE

This alignment method is best used when 180 degrees of shaft rotation is not possible. The minimum required shaft rotation is 40 degrees. The more rotation, the better and more precise the alignment.

VERTICAL ALIGNMENT

Vertical shafts alignment is carried out by moving the machine flange/coupling until the axes are coaxial enough to stay in the assigned limits.
Note! Coupled and Uncoupled Shaft.

SOFT FOOT

Before any alignment soft foot should be addressed.

MACHINE TRAIN

This alignment method is for aligning multiple components across several couplings. Coming soon

THERMAL GROWTH CORRECTION

Easily and accurately compensate for thermal growth using the VLSAT thermal growth correction module.
5, U.K. Industrial Estate, Behind Durian Furniture,
Opp. Oswal Park, 2nd Pokharan Rd, Thane ( W ) - 400 601, (M.S)

4 / A Wing, Bharat Indl Estate, Off. Lake Road, Opp. Hind Rectifier Co.
Bhandup (W)
Mumbai – 400 078 (M.S)


R / 375, TTC Industrial Area, Rabale,
Navi Mumbai - 400701 (M.S)



Gat No # 87, Indrayani East, Jyotibanagar, Talawade, Pune 412 112 (M.S)



| | | | | SITEMAP
MARKETING PRODUCTS:
VIBRATION MEASURING INSTRUMENTS | VIBRATION MONITORING SYSTEMS | SOUND MEASURING INSTRUMENTS | LASER SHAFT ALIGNMENT | SCHENCK BALANCING MACHINES
BALANCING SERVICES:
| VIBRATION ANALYSIS | FIELD BALANCING | ROTOR REPAIR AND SERVICES